Hydrogen Can Become Big Business In Wyoming
Wyoming has long been an energy leader in the United States, exporting 90% of the energy we produce. In recent years, we have moved to a net-zero energy policy that relies on a mix of all types of energy to be cultivated within the state. One of those is hydrogen.
The Wyoming Energy Authority published the following.
The production, consumption, and exportation of hydrogen carries the potential to fill the downstream demands of transportation, including heavy-duty vehicles, rail, air, and shipping; meet residential and industrial power generation and heating requirements; and produce feedstock (steel and chemical) supplies. Wyoming's vast experience in energy production coupled with a strong infrastructure backbone capable of supporting a hydrogen industry positions the state at the forefront of this expanding opportunity.
To create additional opportunities in this sector, Wyoming has joined the Western Inter-States Hydrogen Hub (WISHH). This organization comprises the states of Colorado, New Mexico, Utah and Wyoming - led by the "Collaboratory," an organization chartered in 2007 that consists of leading research institutions working together on science and technology related to hydrogen and other energy dopics. WISHH members are working together to further research and help to guide policy and funding opportunities at the federal level.
"By working together we can compete for a portion of the $8 billion 2021 Infrastructure and Jobs Act," said Anja Bendel, Program Director for the Wyoming Energy Authority.
Governor Gordon said of joining WISHH, it.. "reaffirms Wyoming's commitment to supply hydrogen to consumers through the Western states."
Dr. Glen Murrell, Executive Director of the Wyoming Energy Authority, said, "... Wyoming is home to as much as 25% of the nation's naturally existing commodity and energy feedstock for the production of Hydrogen…Collaborating with our neighboring states only reinforces our commitment to developing a strong hydrogen economy."
How Communities Can Benefit from Growth in the Hydrogen Sector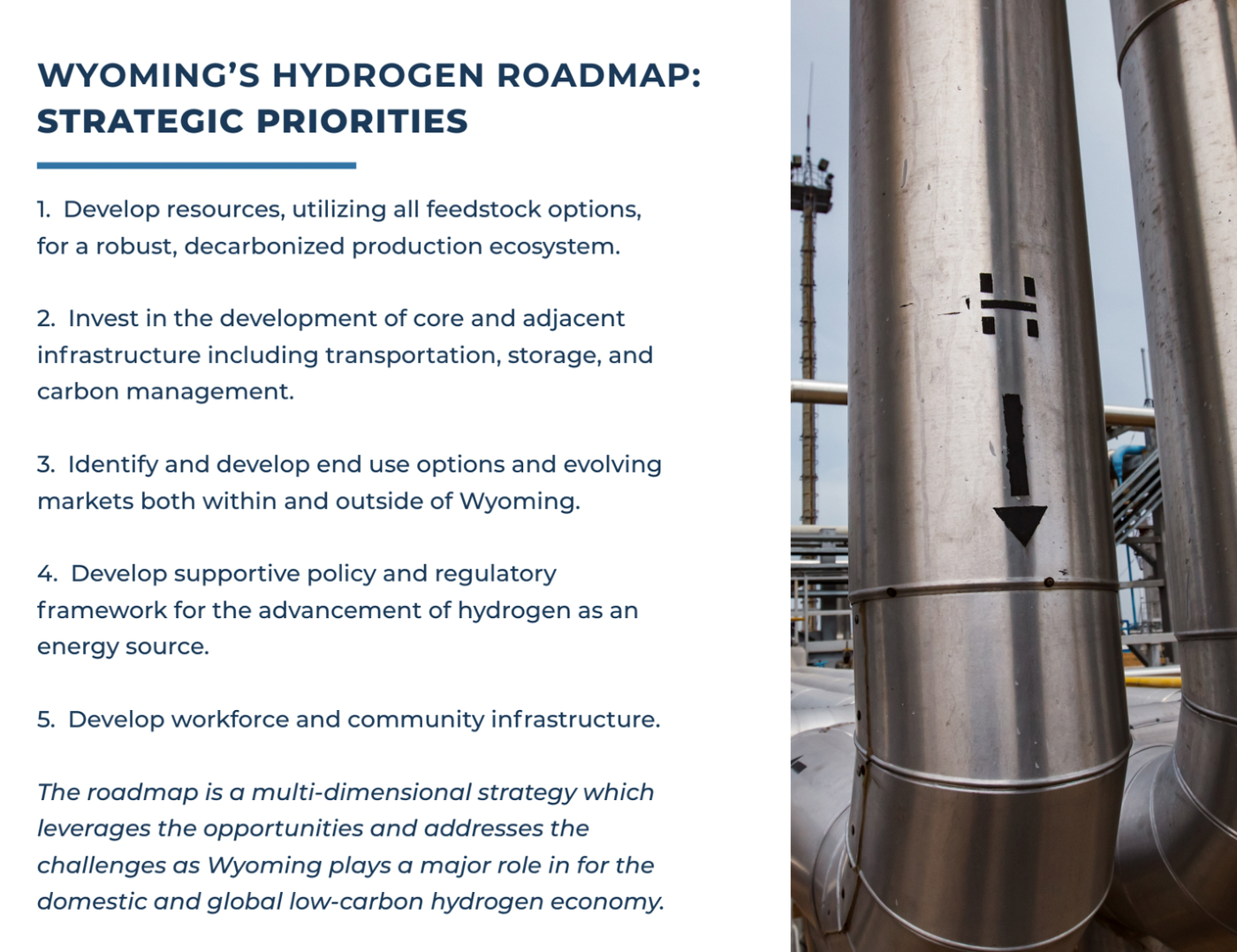 The Wyoming Energy Authority has rolled out the Wyoming Roadmap to Build a Hydrogen Economy, outlining the top 5 priorities and what the roles are of different stakeholders. One of those stakeholders is economic development agencies at the state and regional levels.
"Our goal is to make concrete suggestions and recommendations for what EDO's can do in their own backyard. We recommend learning what you can about hydrogen and update your strategic plans to include looking at business in the value chain, suppliers, and service providers who support the industry. Do economic development work around business recruitment and helping existing businesses to adjust to be able to participate in these new opportunities," said Bendel.
She also recommends that EDO's work with government partners at the state and local level on creating energy parks or energy development zones. If the zoning is supportive of that activity it becomes easier for businesses to conduct hydrogen-related activities. This may involve working with local council's and legislature, making it important to work collaboratively.
Plan and prepare is the message Bendel wants to convey to economic developers and community leaders. She also recommends understanding different messages for the production of hydrogen. One can be through renewable energy and electrolyzers (energy to split water into hydrogen and oxygen) or you can have fossil fuel based hydrogen. Creating messaging and support around both sub-sectors will create the most opportunities. "Don't think, 'Oh we don't have natural gas production so we can't participate.' That's not true because you could participate on the renewable side or through supply chain support," said Bendel.
To learn more about how your community can benefit from the hydrogen economy, download the Wyoming Energy Authority's roadmap.